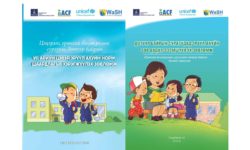 In order to make safe and healthy learning environment for children and to give opportunities to develop healthy behaviors for students, a Joint Decreeof the Minister of Education, culture and science, Minister of Health and Sport and Minister of Finance was made on June 29th, 2015 number A253/ 251/173 named "Norms and Requirements for Water, Sanitation and Hygiene in kindergartens, schools and dormitories".
Currently, a guide for school management to support teachers in implementing the norms and requirements were distributed before the 2015-2016 academic year throughout the country. The guide was developed by a team of the Ministry of Education, "Wash Action of Mongolia" NGO, and experts and researchers.
Also, distributed "Recommendations to possess proper hygiene practices for students" for dormitory teachers.